Artifact Hunters Boxed Set: Books 1, 2 and 3 (The Artifact Hunters)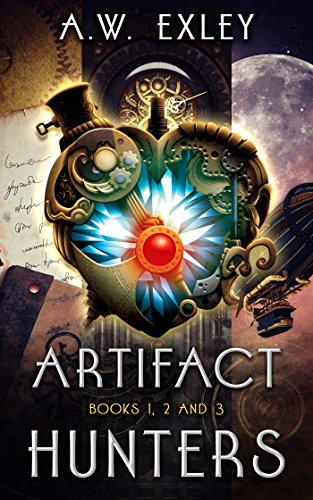 Artifact Hunters Boxed Set: Books 1, 2 and 3 (The Artifact Hunters)
by A.W. Exley

Join Cara in a steam powered Victorian England, as she hunts for powerful artifacts and struggles to confront her demons. This set contains the first three novels in this bestselling historical fantasy series.

1: Nefertiti's Heart
A killer stalks the nobility, seeking a legendary diamond said to have once belonged to Queen Nefertiti and rumoured to hold the key to immortality.

2: Hatshepsut's Collar
An ancient Egyptian necklace is driving Queen Victoria mad with megalomania, and that's not Cara's most pressing problem.

3: Nero's Fiddle
People start dying from spontaneous human combustion when someone uses a relic from Rome to cover up an old secret.

Awards for Nefertiti's Heart:Winner Kindle Book Review, Best Sci-Fi/Fantasy (2014) Winner BTS Red Carpet Awards, Readers Choice Sci-Fi/Fantasy (2014)

"The world building is stellar, the characters deep, emotional, and above allrealistic. This may be a world set in an alternate universe, and timeline butit is such a well drawn universe that felt as though I had stepped into aworld that truly exists." Coffee Times Romance blog award.

"I was insatiable in reading Nefertiti's Heart! This was only my second steampunk book and this book is downright amazing." Night Owl Reviews Top PickAward.