American Steam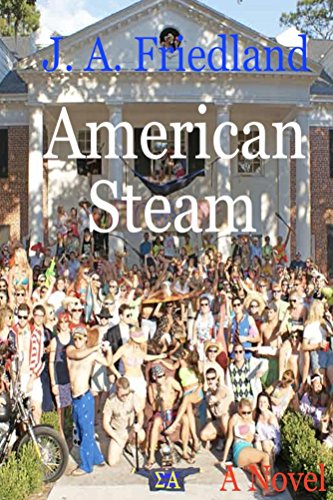 American Steam
by J.A. Friedland
A groundbreaking work of hysterical realism set at a university and depicting how advanced consumer capitalism is twisting human nature into a Frankenstein creation of narcissistic self-interest, thereby undermining the foundations of every social institution, from the university to the workplace to the family. We laugh and gasp as we discover just how low colleges are stooping as their mission is reshaped by market forces. The story is loosely autobiographical, inspired by a wealth of hair-raising experiences the author has amassed over two decades teaching at American universities.

The story follows Professor Jules Stern as he comes to the realization that his world is being overtaken by a zombie-like epidemic of narcissism. It's a place where pampered students blackmail compromised faculty in a madcap mix of raging hormones, political correctness, and consumer entitlement. Jules valiantly beats back the disease in his interactions with students, colleagues, and romantic interests. But when his walls start to crumble, he struggles to distinguish sanity from insanity and his fight becomes a battle to save himself.

Written in the first person present tense, it reads like a zen memoir, interweaving biting irony with moments of beauty and grace where Jules manages to feel at one with the world and free of the thought contagion sweeping his society and threatening to engulf his own mind. Ultimately, we are left with a glimmer of hope as Jules stumbles upon the start of a recipe for cultural transformation.