Amazon FBA Mastery: Your 5-Days Beginner To Expert Guide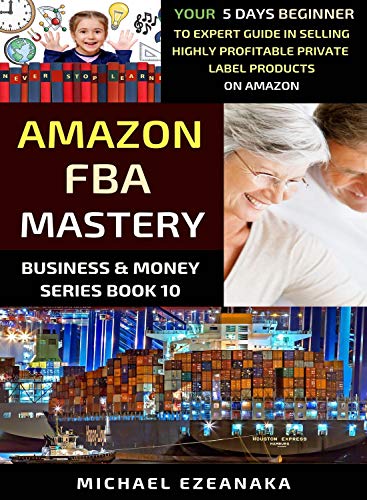 Amazon FBA Mastery: Your 5-Days Beginner To Expert Guide
by Michael Ezeanaka

Are You looking for a PROFITABLE ONLINE BUSINESS that you can start TODAY - even if you've NEVER MADE MONEY ONLINE BEFORE?
Amazon FBA is truly one of the best online business models that ANYONE can use to get started with making profits online.
It's allowed ordinary people without much technical skills and experience to rack up tremendous amounts of cash in little time selling products that are already proven.
"I tried to build up an e-commerce business. This book helped me a lot. There has so many great tips and strategy about amazon FBA. I liked this book" - Amazon Verified Review
How would you like to build an online business that puts money in your pocket and pays you to live the life you've always wanted?
If you're like most people, you're still stuck at your soul-crushing job, barely managing to make ends meet. But because you're not satisfied with where you are, you've tried different methods to make money online, without much success.
In this book, Amazon 5 times #1 bestselling author, Michael Ezeanaka presents a proven step-by-step manual that shows you exactly what you need to do to build a successful Amazon FBA business.
In this 2 hours read, you'll discover:
How the Amazon FBA business model works
How to find profitable and low competition products to sell on Amazon
Specific tools you need for different aspect of the Amazon FBA process (including one that helps you to minimise refunds!)
A step-by-sep breakdown of the costs involved in starting an Amazon FBA business
9 key criteria for selecting a product that sells like crazy
How to create artificial demand for products that have little or no demand
The one big mistake beginners make that result in significant Amazon storage fees - and how you can avoid it
The profile of products that are most likely to attract litigations (you need to stay clear of them)
6 places you can find reliable suppliers
5 ways to evaluate supplier reliability (one of which will help you avoid potential seizures and litigations)
5 ways to spot shady suppliers (you'll be surprised)

Shipping strategy that will allow you to take advantage of the "holiday rush" in december

How to effectively launch your product and gather reviews

The key characteristics of an attention grabbing image (you need to take advantage of these in your product photos!)

3 ways to optimise your Amazon product listings to increase conversions and boost sales

7 simple and effective ways to cross-sell any complementary products you have

How you can take a cue from IKEA's playbook to sell a LOT of complementary products

How to scale your Amazon FBA business to $10,000 a month and beyond
...and much, much more!
The strategies discussed in this book have worked for countless others with no previous experience of making money online. If they can do it, there's absolutely no reason why you can't
If you're ready to give Amazon FBA a try, I'm ready, scroll to the top of this page, click the "Buy Now" button and lets get started!
★★BONUS★★: Amazon will make the kindle version of this book available to you for FREE when you purchase the paperback version TODAY.