All In: Discovering the Love, Strength, and Blessings God Gives to Those Who Are Faithful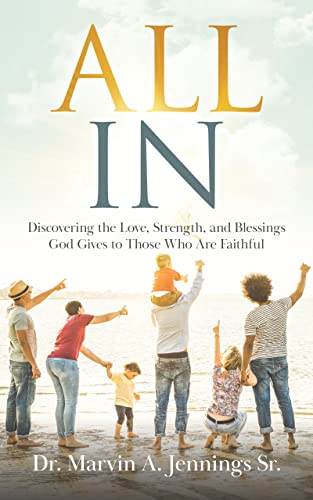 All In: Discovering the Love, Strength, and Blessings God Gives to Those Who Are Faithful
by Marvin Jennings

Are you ready to leave behind a life of mediocrity and embark on an all-out journey of faith?
Many believers begin their walk with Christ with big dreams and God-given desires. But as confusing setbacks and unexpected hardships arise, the temptation grows to cast aside God's best plans in exchange for safety, convenience, and comfort. Then they miss out on the true greatness and blessing God intends for each of His children when they choose to go all-in and lean on Him.
Dr. Marvin A. Jennings was the pastor of Grace Emmanuel Baptist Church in Flint, Michigan, for over thirty four years. The wisdom and encouragement he shares in this book are born out of his own decades-long walk of faith.
This uplifting book will help you to:
Receive God's love so you can share it with others
Embrace the vision God has given you for making a real difference in the world
Make sense of the detours and difficulties in your life
Live in confidence as a giant-slayer, not in fear as a grasshopper
Plus, workbook questions and application-oriented action steps will guide you in reflecting on how to lean on God and truly live out your faith in practice.
God has lessons, blessings, and miracles in store for you. Begin reading All In: Discovering the Love, Strength, and Blessings God Gives to Those Who Are Faithful as part of your path to choosing God's best for your life. As you keep faith through life's challenges, you'll experience the greatness that can only be found in trusting Him!