Age of Wolves: An urban fantasy romance (Fated Book 1)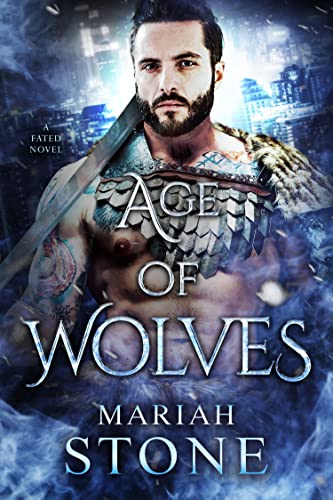 Age of Wolves: An urban fantasy romance (Fated Book 1)
by Mariah Stone

Her suspect. Her lover. Her doom.
Boston police detective Ella O'Connor's job is on the line. And only busting port owner Channing Hakonson for drug smuggling will satisfy her boss. But there's more to the tattooed billionaire than she imagined—something mystical and ancient.

Wolves protect him. Time traveling Viking assassins stalk him. The mafia bails him out of prison.

And even Ella's own mysterious powers can't stop Channing from dooming them all—or occupying her every thought.
With an unprecedented early winter causing food shortages around the globe, and chaos reigning in the streets, it feels like an apocalypse is coming. And somehow the Nordic giant is responsible for Ragnarök.

To keep her family off the streets, she must put him behind bars.

To save the world, she must kill him.

But she breaks the most important rule in the book: Do not fall in love with the suspect.
Scroll up and 1-click to start reading this edge-of-your-seat, slow burn, urban fantasy romance today!
*** Previously published as Eternal Fire, book 1 of Threads of Time series. ***

⭐⭐⭐⭐⭐ "What a fantastic start to this new trilogy!"
⭐⭐⭐⭐⭐ "Simply impossible to put this book down!"
⭐⭐⭐⭐⭐ "OMG! I really want the next book right now."

This is the first part or a trilogy with an epic cliffhanger and not a standalone.