A Tooth in My Popsicle: And Other Ebullient Essays on Becoming Filipino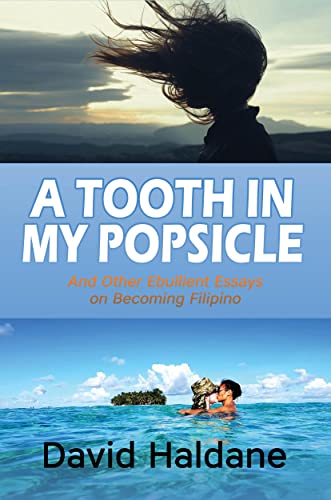 A Tooth in My Popsicle: And Other Ebullient Essays on Becoming Filipino
by David Haldane

Ever felt like chucking it all and moving to an island paradise? Award-winning journalist David Haldane and his Filipino wife, Ivy, met on an international dating site. Ten years later, with David laid off from his dream job at the LA Times and frustrated by mounting costs in America, they made the bold decision to move to the Philippine island of Mindanao, where Ivy grew up.
This is the story of that adventure including its tragedies, triumphs, and travails as they slowly build their dream house overlooking the sea, explore the famous surfing mecca of Siargao Island, try to bridge the huge cultural gaps, navigate COVID in a foreign land, and give birth to a child during one of the world's longest and strictest lock downs.
Originally published as a weekly column for Mindanao's leading newspaper, these short essays recount the surprising, spiritual, sometimes frightening, often hilarious, and always entertaining experience of adapting to life in a strange new place.
Required reading for anyone contemplating such a move, or Filipinos wondering what would inspire a foreigner's abiding devotion to their homeland.