A Secret Baby in the Show Me State (Cowboy Crossing Western Sweet Romance Book 3)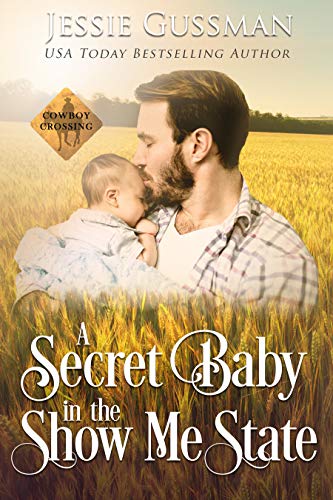 A Secret Baby in the Show Me State (Cowboy Crossing Western Sweet Romance Book 3)
by Jessie Gussman

A midnight tryst, an unknown admirer and a baby that is delivered to church with just a short note.
On the day Deacon Hudson was set to be ordained, a bundle shows up at the church with a simple note on it. Deacon Hudson is the father. Take care of her.
Deacon knows he's not the father. The Immaculate Conception was a one time thing. But the baby needs a parent, and he has to decide if he will give up his life dream of being a pastor to take the child, despite the fact that the note is a lie. Can he do it without resenting the child?
Blair Dixon made an unthinkable decision and sacrifice, driven by the unfathomable love a mother has for her child.
She served her time. Now she's back to fix the mess she made.
It might not be possible to straighten everything out.
It's definitely not possible for her to get everything she wants – the best everything for her daughter and the love of the cowboy she chose to be the father.
But small town gossip can be vicious, and unless she comes up with a plan, she could ruin his life a second time.
After what she'd done, love was impossible. Or was it?

Reviews for A Secret Baby in the Show Me State:
★★★★★ "I really enjoy seeing Jessie put real life thoughts and conversations in her books that really do go through the minds and hearts of Christians." - Tiffany
★★★★★ "Lots of emotions in this story, just as in Chandler's. And the author was spot on with how judgmental church people can be." - Judy
★★★★★ "I honestly think this book should become recommended reading for all new Christians. While all the Hudson brothers are good men, Deacon embodies what forgiveness and compassion should look like as a Christian." - Kati
★★★★★ "I can't say enough good about these stories in this series, characters are awesome, story line are so interesting. Love the fact I can share with my mom and she has clean interesting stories to read and we can talk about!" - Kindle Customer
★★★★★ "A romance where the girl doesn't think she is good enough for the guy. Makes for an interesting story." - Pam
Books in the Cowboy Crossing series:
Best Friends in the Show Me State
Sold! in the Show Me State
A Secret Baby in the Show Me State
The Beast Gets His Cowgirl in the Show Me State
A Marriage of Convenience in the Show Me State
A Second Chance in the Show Me State
A Mistletoe Mishap in the Show Me State
His Best Friend's Sister in the Show Me State
The Cowboy Finds Love in the Show Me State