A Second Chance to Hope (The In Jesus' Love series Book 1)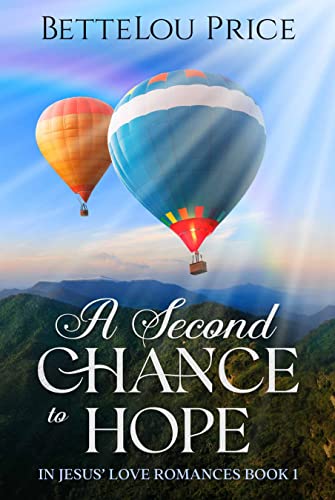 A Second Chance to Hope (The In Jesus' Love series Book 1)
by BetteLou Price

She's an unwavering apostle. He's lost his trust in a higher power. With a powerful spark between them, can the Almighty help them see eye to eye?
1985. Hope O'Leary is eager to find God's perfect match. Still shaking off heartbreak that ended in religious disagreement, the single woman excitedly attends a hot air balloon gala in Colorado. But when treacherous weather cancels the festival, an impromptu indoor party unexpectedly locks her in close quarters with the nonbeliever she once loved.
Neil McGrath's life has left him emotionally bruised. Shunned by his father when his parent chose a well-paid job over spending time with his son, the aviation enthusiast is left absolutely speechless when he runs into the woman he fell for fifteen years ago. But his disbelief only intensifies when his reunion with the devout disciple is interrupted by none other than Jesus Christ.
As Hope stands strong in the face of temptation, she's determined to help the man she deeply cares for rediscover the healing powers of faith. And though Neal's past and present struggles rear their ugly heads to make him question his choices, the broken Doubting Thomas still persists in rebelling against his Creator.
Desperate to fulfill their heart's desires, can this torn couple pave a righteous path to true happiness?
A Second Chance to Hope is the heartwarming first book in the In Jesus' Love romance series. If you like introspective characters, meaningful biblical references, and touching sentiments, then you'll adore BetteLou Price's clean tale of rekindled passion.
Buy Second Chance to Hope to feel His strength today!