A PRACTICAL GUIDE HOW TO LIVE THE LIFE YOU DESERVE: BoxSet (3 books) WEALTHY HEALTHY HAPPY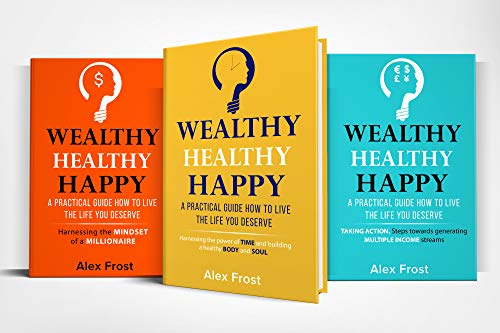 A PRACTICAL GUIDE HOW TO LIVE THE LIFE YOU DESERVE: BoxSet (3 books) WEALTHY HEALTHY HAPPY
by Alex Frost

It is a BoxSet of series WEALTHY HEALTHY HAPPY
✓ Harnessing the power of time and building a healthy body and soul (Book 1)
✓ Harnessing the mindset of millionaire (Book 2)
✓ Taking Actions Steps and Generating Multiple Income Streams (Book 3)
① The first of the trilogy, Harnessing the Power of Time and Building a Healthy Body and Soul, provides well-detailed information on how you can gain control over your time and inculcate healthy habits in all your activities, whereas Harnessing the Mind of a Millionaire.
② The second in the series, focuses on training your mind to actualize and sustain financial goals.
③ The third book is a financial transmogrification guide that provides in-depth steps towards gaining financial freedom.
These books are must-reads for individuals with intents to maintain an all-round balance in all areas of life.