A Plain Jane Mystery Box Set: Books 1-3 )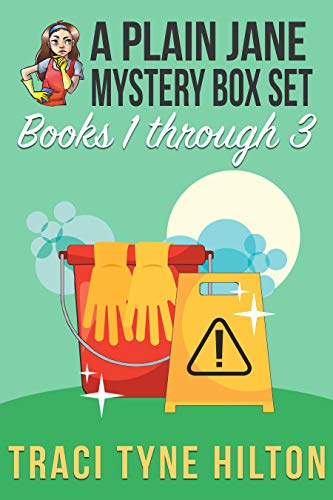 A Plain Jane Mystery Box Set: Books 1-3 )
by Traci Tyne Hilton

The first three books of the Plain Jane Mystery Series in one box set!

Did a tragic accident kill Jane's best clients or was this a messy murder that will take more than a miracle to mop up?


Good Clean Murder




Jane Adler is ready to make her mark on the world. As soon as she's finished college, she's off to be a missionary.

To make ends meet until then, she cleans houses all over town. When she finds her best clients dead, she steps in to take care of their devastated family—good practice for her future life of caring for those in need. When housecleaning dusts up clues to murder, Jane dives in to help the police, even if they don't want her to.

Deep in dirt, Jane turns to her cute new instructor for wisdom, and a little company. But cute young men aren't always a blessing and life gets messier than she could ever have imagined.

In way over her head, Jane's investigation uncovers quirky suspects, a greedy family, and a mess of epic proportions. And with each new discovery, she gets closer to danger.

Can Jane sort out this mess before the murderer sweeps her up, too?

Good Clean Murder is the first book in the delightful Plain Jane cozy mystery series. If you like witty mysteries full of twists and turns that don't compromise Christian faith, you'll love Hilton's cozy mystery!
Dirty Little Murder


College student and housekeeper Jane Adler dreams of being a missionary but the road there is littered with corpses.

Jane found the most recent body floating in the hot tub at her newest client's house. The dead guy was a notorious flirt and carouser. Had his romantic shenanigans gotten him killed?

Cleaning up a murder was bad enough, but Jane's love life was a mess too. Usually absence makes the heart grow fonder, but her boyfriend Isaac's overseas teaching job seems to be driving them apart.

On top of it all she's been hand selected by her church as a candidate for one of their few fully funded missionary support positions. But can she solve a murder, keep her boyfriend, and follow her dream all at the same time?
Bright New Murder
Homeless preschoolers, angry protesters, frozen yogurt, and murder.

Jane Adler is keen to try on her detective hat, and the dead lady at the Christmas fundraiser is her perfect shot.

Timing is everything and this murder was timed perfectly to destroy her best friend Jake's growing Fro-Yo business. He's a great friend--just a friend, honest-- and she owes him a favor or two.

But discovering who would want to kill the town's favorite preschool teacher is messy business, and Jane doesn't have a moment to waste!


Also the first book in The Plain Jane Mystery Box Sets Series!