A Hat Full of Sky (Discworld Book 32)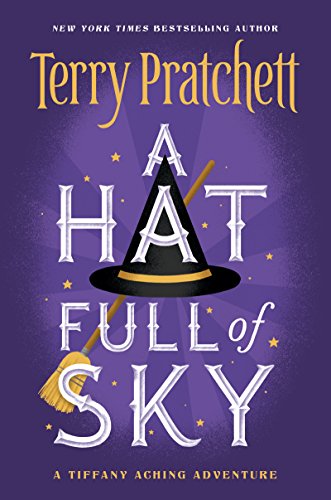 A Hat Full of Sky (Discworld Book 32)
by Terry Pratchett

Winner of the Mythopoeic Fantasy Award for Adolescent Literature * Locus Award for Best Young Adult Book Winner * ALA Best Fiction for Young Adults * ALA Notable Children's Book
The second in beloved and bestselling fantasy grandmaster Sir Terry Pratchett's beloved Discworld novels starring the young witch Tiffany Aching.
Tiffany Aching is ready to begin her apprenticeship in magic. She expects spells and magic—not chores and ill-tempered nanny goats! Surely there must be more to witchcraft than this.
What Tiffany doesn't know is that an insidious, disembodied creature is pursuing her. This time, neither Mistress Weatherwax (the greatest witch in the world) nor the fierce, six-inch-high Wee Free Men can protect her. In the end, it will take all of Tiffany's inner strength to save herself . . . if it can be done at all.
"A Hat Full of Sky continues Terry Pratchett's brilliant look into the world of a young witch: this time, with more angst." (Fantasy Book Review)
The five funny and fabulous Tiffany Aching adventures are:
The Wee Free Men
A Hat Full of Sky
Wintersmith
I Shall Wear Midnight
The Shepherd's Crown
Tiffany's mentors, Granny Weatherwax and Nanny Ogg, star in the novels Equal Rites, Wyrd Sisters, Witches Abroad, Lords and Ladies, Maskerade, and Carpe Jugulum.
And don't miss Terry Pratchett's hilarious and wise Discworld novel The Amazing Maurice and His Educated Rodents!