A Grave Misunderstanding: A Simon Grave Mystery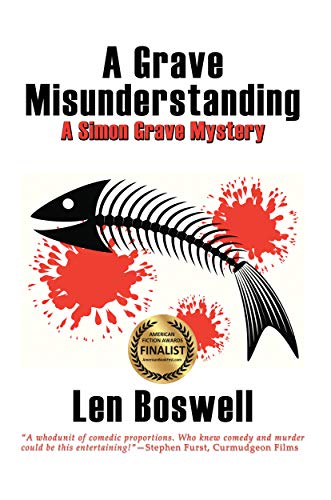 A Grave Misunderstanding: A Simon Grave Mystery
by Len Boswell
2018 American Fiction Awards Finalist - Mystery/Humor
2018 PenCraft Awards Winner for Literary Excellence
Murder has come once more to the seaside town of Crab Cove, testing the mettle of "almost handsome" Detective Simon Grave and his "nearly invisible" partner, Sergeant Barry Blunt, who investigate a locked-room mystery with a significant twist: the prime suspects are in the locked room, not the victim, a logic-defying situation that challenges the team at every turn.
As if murder weren't enough, they must also investigate the simultaneous disappearance of The MacGuffin Trophy from that same locked room, the studio of artist Whitney Waters, famous for her stylized paintings of red herrings.
Who is/are the killer(s)? How did he/she/they get out of the locked room with the trophy, kill the victim, and return unnoticed by others in the room? These and other questions, including the limits of logic and the meaning of life, are posed and perhaps even answered in this quirky, near-future mystery. Yes, there are robots.
"A truly hilarious mystery in the tradition of Janet Evanovich, Thomas Davidson and Rich Leder." –Best Thrillers