A Dad Joke A Day: Over 365 of the best most exceedingly cringeworthy dad jokes for kids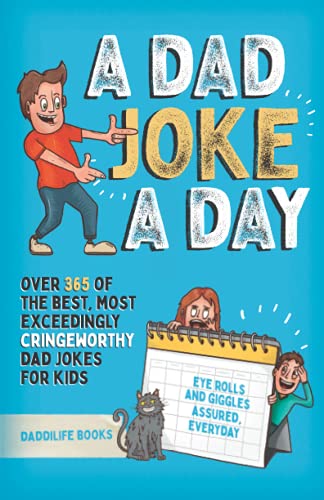 A Dad Joke A Day: Over 365 of the best most exceedingly cringeworthy dad jokes for kids
by DaddiLife Books

Looking for the perfect gift for dad? Then keep reading…
Unleash dads' ultimate superpower with a terribly good dad joke for EVERYDAY of the year!
Can A Dad Joke A Day keep the doctor away? Perhaps not. But a dad joke in the right hands can keep the kids and family on their toes, as well as their eyes firmly rolled.
In this book from DaddiLife Books – written by one of the leading platforms for modern day fathers, there is a different dad joke everyday, with some especially groan worthy tummy ticklers on specific calendar days of the year (see if you can spot them all).
What this book of dad jokes will help you do:
Create a little family fun, everyday – A different dad joke for every day of the year, including in Leap Years, so dad can be top of his dad joke game 24/7 with knee slappers such as: Why was the broom running late? It over-swept. And, What do you call a hen who counts her eggs? A mathemachicken.
Understand the science behind the dad joke – How our brains understand dad jokes differently to normal jokes, and the psychology behind a great dad joke versus an average dad joke.
Sharpen your joke telling – Whether you need a dad joke for a wedding speech or an everyday family laugh, this book has the best advice from across the DaddiLife community on how to tell a dad joke to its very finest, even if you have never told a dad joke before (seriously, where have you been)!
Tell dad jokes on specific days of the year - Whether it's New Year, or Star Wars day, you won't just be funny, but hilariously on-point.
If you want to arm Dad with everything he needs on his ultimate mission - joining the Dad Joke Hall of Fame – then click the Add to Cart button.