A Cowboy's Whisper: The Cowboys of Whisper, Colorado: Books 1-3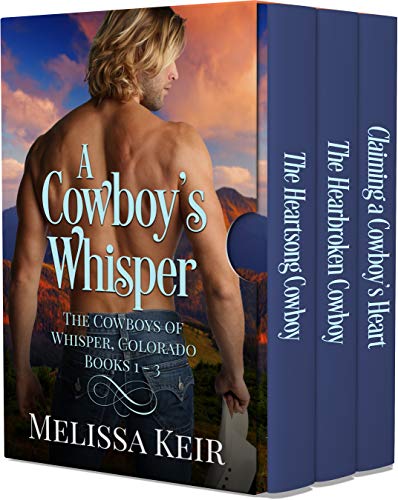 A Cowboy's Whisper: The Cowboys of Whisper, Colorado: Books 1-3
by Melissa Keir
Join three amazing couples who look for love in a small town as they overcome obstacles and find their happily ever after.

The Heartsong Cowboy
Can two people, one horse and the power of love cure a little girl?

Angela French blames herself for her daughter's lack of voice. Determined to do anything to correct the situation, she seeks out Jake Kyncade, the owner of The Heartsong Ranch.

Jake Kyncade hides his own sorrows behind his no-nonsense demeanor. Helping children becomes one way to correct his past. Using equine therapy, he sets out to make a difference.

Can Jake help Angela's dreams come true or will Jake's past bring more heartache? Will love save them all?

The Heartbroken Cowboy
Love isn't found at the bottom of a bottle…

Johnson O'Neill joined The Heartsong Ranch to escape his addiction. One night at a friend's wedding, stress causes him to fall off the wagon and into the arms of the woman of his dreams.

Debra Donahue lost her husband to alcohol then pulled herself up by her bootstraps becoming a million-dollar selling real estate agent. One night with a sexy cowboy and a bottle of whiskey, Debra falls hard.

Can an alcoholic cowboy and a brokenhearted woman find love despite their fears? Or will the bottom of a bottle claim another happily ever after?

Claiming a Cowboy's Heart
Even broken souls deserve a second chance at love….

Elementary Teacher, Michelle Alt has faced untold trials in her life, yet she continues to do what's right to make things better for the next generation.

Cowboy Veterinarian, Preston Hall has lost everything in order to follow his dreams and return to his grandfather's small-town practice.

Recognizing each other's pain, these two broken souls come together to heal, but fear and misunderstandings send their blossoming relationship into a tailspin. Will they be able to put aside their pain to find the love of a lifetime?