A Beginner's Guide on Parenting Children with ADHD: 8 Step Program to Raise Thriving Kids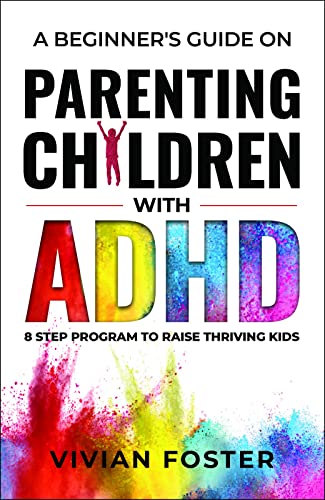 A Beginner's Guide on Parenting Children with ADHD: 8 Step Program to Raise Thriving Kids
by Vivian Foster

Parenting a child with ADHD doesn't have to be a rollercoaster ride -- discover how to pave the road to a peaceful and happy life…

Learn the Emotional Management strategies to Help your Children Self-Regulate and Thrive.
Changing your child's life (and yours!) for the better starts with understanding how your child experiences the world and interacts with it.

By following the guidance and applying the program in this book, you will be able to raise your child without the unnecessary frustrations... and finally, build that strong bond you've always wanted.

In A Beginner's Guide on Parenting Children with ADHD, you will discover:

• What exactly ADHD is – what causes it, and what if it's not ADHD at all?
• How to proceed towards diagnosis, which professional to choose, and which medication is right for your child (if any!).
• What to expect in each stage of your child's growth from preschool to adolescence.
• A 8-step program to empower your child -- including ideas for games and activities to nurture your kid's ability to adapt, cope and thrive.
• How to help your child with their peer problems and boost their academic development.
• How to handle environmental stimuli and avoid the triggers that send your child on a rampage.
• How to take care of yourself to stay healthy and fully present for your child with ADHD, as well as your entire family.

And much more.

It's time to uncover the incredible potential your child has -- they just need the right guidance!
Discover how to help your child with ADHD transform into the amazing person they truly are.
What readers say about Vivian Foster
(for her first book, "Anger Management for Parents: The ultimate guide to understand your triggers, stop losing your temper, master your emotions, and raise confident children")
"The author, Vivian Foster, provides not only strategies for parents to manage their anger but also explains the psychology of anger with such depth that anyone (not just parents) can better understand its causes and triggers."
-C.R. Hurst, Author of the Jane Digby's Diary Series
"This is a much needed book and I'm so glad the author decided to write it. She does a great job of providing insights from the child's and the parents point of you. I can't think of anything that was missed in this book and I recommend it for anyone who could use the support. It's empowering to have the knowledge and understanding about your emotions and examples of ways to change circumstances. It doesn't have to be a struggle."
-Susan Rourke
"Five out of five stars! I recommend ' Vivian Foster's Anger Management for Parents' to parents, grandparents, and caregivers everywhere!"
-Dean Vargo

Vivian Foster is a parent and teacher with a background in psychology. She is also the author of the acclaimed "Anger Management for Parents: The ultimate guide to understand your triggers, stop losing your temper, master your emotions, and raise confident children"

With over 20 years dedicated to studying psychology, in particular childhood development and parenting, she is dedicated to helping others navigate the issues she has encountered on her own parenting journey. Her writing is driven by her own experience of parenting a child with ADHD and informed by the negative experiences of family life she had as a child.

She has used her education and the tools she learned in her own therapy to make her approach accessible to parents of all backgrounds.