A Baker's Guide To Content Marketing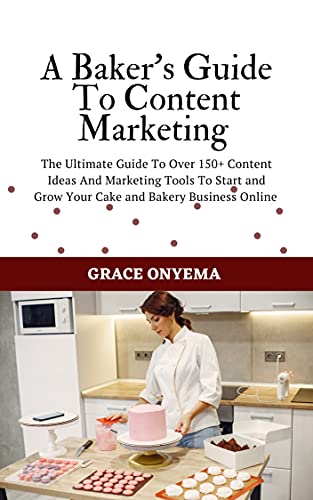 A Baker's Guide To Content Marketing
by Grace Onyema

Hello Baker, You Need Content Marketing!
Running a successful bakery business online takes more than quality ingredients and recipes, amazing decoration skills, and having lots of friends & clients who order from you.
The knowledge of content creation and marketing is ESSENTIAL for any bakery business looking to thrive online.

WHAT BENEFITS WILL YOU GAIN FROM THIS BOOK?
Content ideas for social media, videos, webinars/online courses, eBooks, etc., that would keep your blog/page/website busy, value-packed, and engaged up to 6 months and above.
You are armed with tools to use in creating quality/professional content (e.g. image posts, audio-visuals, videos, etc.) and digital products you can sell later, just like this eBook.
More traffic/audience/followers who subsequently become your customers, and you end up generating funds up to six-figures and more.
Growth in the structure of your cake/bakery business, contracts, influence, and sales.
And so much more…
Dear Baker,
If you are seeking to know what content creation and marketing is all about, and its benefits for your business, this book is a resource you should get.
Do you require Goal Setting Skills and how you can define your business purpose? You need to make this book your guide.
Are you in need of strategies to set up sales and marketing funnels for your bakery business? You should have this book in your arms always.
I believe that for you to have a successful and profitable bakery business, then it should be making sales and generating profits. You can achieve this by getting people to know your business, see your products, and actually buy from you - Content Marketing helps you achieve this seamlessly.
This Book is an ONLINE BAKERY BUSINESS BLUEPRINT, and that's why you need to read it!