7 Detrimental Mistakes after a Toxic Relationship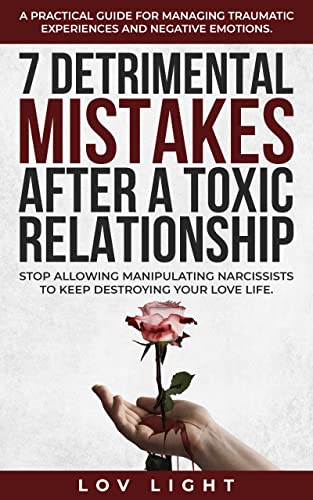 7 Detrimental Mistakes after a Toxic Relationship
by Lov Light

Did your narcissistic partner leave you feeling worthless with a lack of confidence?
Please know you are not alone. 70% of Americans cheat at least once in their marriage. It is highly common to experience severe pain over someone who you thought loved you dearly.
In this book, you will discover:
Practical methods Rihanna used to thrive after Chris Brown's abuse.
1 powerful decision-making method you can use to lead you down the right path in all aspects.
The reason why most self-help advice can't fix your trauma
An instant confidence booster technique used by a famous boxer.
A tragic phenomenon celebrities such as Oprah and Amy Schumer experienced and how they got over it.
Why avoiding the past decreases your chances of finding a healthy relationship.
Meditation and journaling can only do so much and they do NOT work for everyone. Your healing journey is very personal and goes a lot deeper than self-help tricks. The truth is, even if all your past relationships were abusive and even if you've already tried every healing method in the world, there is always a path that works. It's up to you to find it and up to us to help get you there.