127 Home-Based Job & Business Ideas: Best Places to Find Jobs to Work from Home & More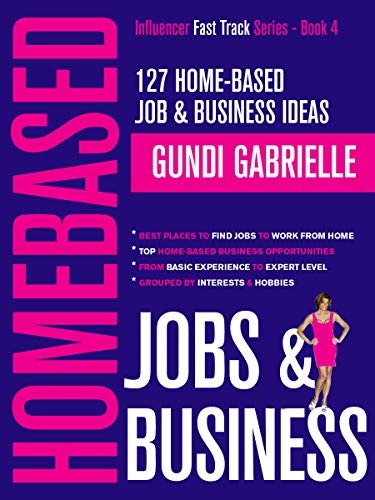 127 Home-Based Job & Business Ideas: Best Places to Find Jobs to Work from Home & More
by Gundi Gabrielle
Looking to start a legitimate HOME-BASED JOB or BUSINESS? Ready to finally WORK FROM HOME with flexible hours in your own good time?
Do you NEED A JOB right now?

Maybe you are a new Mom and would love to remain a Stay-at-Home Mom, but money is getting tight and bills are piling up?
Or you have to care for an elderly relative and can't work a regular 9-5?
Need to supplement your retirement income?
Whatever your situation may be:
This book will introduce you to an abundance of legitimate home-based job and business options to either get cash quickly when you need it...
Or build long term income streams that you enjoy and that allow you to finally #ClaimYourFREEDOM® and leave that dreary 9-5 job once and for all.
PART 1 starts with the Best Places to Find Jobs to Work from Home grouped by skill and experience level:
Basic Skills

Intermediate Skills

PRO Skills

College Degree Required
This is followed by a number of flexible job options in your local area as well as how and where to find jobs fast.
Next, you'll find several innovative ways to monetize your home and car (and no - not just Uber & AirBnB....).
Then we get to the first list of Top Home-Based Business Opportunities, some with significant income potential - even on a part time basis.
PART 2 lists more home-based job and business ideas grouped by your interests, passions and hobbies:
Pets

Travel (local)

Arts & Crafts

Writing

Photo + Video

Fashion

Cooking

Health & Wellness

Gardening

Kids

Video Games

Medical
Are you ready to change your life today?
Then let this FUN 2-HOUR READ take you on a journey through a multitude of online job and business options that you probably never knew of - and even more fun homebased business opportunities for the long term.
Scroll up to the TOP + hit the BUY BUTTON.