The House Of Crimson & Clover Box Set Volumes I-IV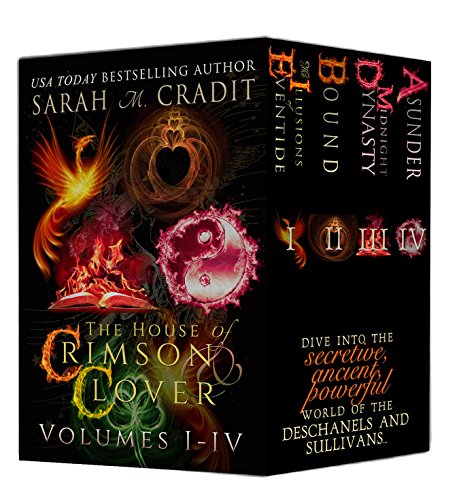 The House Of Crimson & Clover Box Set Volumes I-IV
by Sarah M. Cradit
Dive into the secret, ancient, powerful world of two New Orleans families, the Deschanels and the Sullivans…

From USA Today bestselling paranormal author Sarah M. Cradit comes The House of Crimson & Clover Volumes I-IV, the first four volumes of the bestselling witches family saga, The House of Crimson & Clover.

VOLUME I: THE ILLUSIONS OF EVENTIDE- Nicolas spent 30 years under his flawed set of principles. Mercy, three millennia under hers. Both are bound by these chosen illusions, until their paths unexpectedly cross.

VOLUME II: BOUND- Ana, Finn, and Aidrik are forever bound. By love, promises, and the undeniable threads of fate.

VOLUME III: MIDNIGHT DYNASTY- The Deschanel Curse is back. Who will be its next victim?

VOLUME IV: ASUNDER- Destiny reached across the centuries.