Errant Gods (Blood of the Isir Book 1)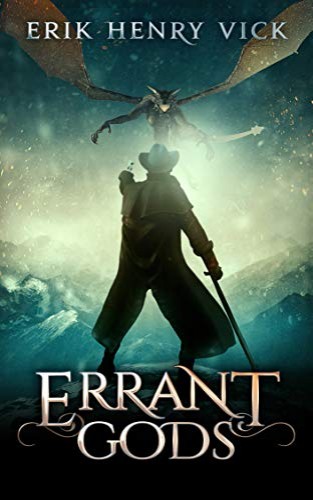 Errant Gods (Blood of the Isir Book 1)
by Erik Henry Vick
What would you do to save the ones you love? KILL A GOD?
Hank Jensen knows what he must do. If he gives in to his disability—his curse—he will never see his wife or son again. Not alive.
In perpetual pain, enervated and exhausted, his time for accepting the limits of his illness is over. He must follow the trail left by the twisted serial killers through the cave where the pair stored their victims and across a shimmering portal into the mythical worlds of the Norse Sagas.
2018 Readers Favorite International Book Awards Silver Medal for Fantasy
If you like terrifying evil, mythical worlds, and a hero facing impossible odds, then you'll love Erik Henry Vick's imaginative Blood of the Isir saga:
Errant Gods—book one
Rooms of Ruin—book two
Wild Hunt—book three
Wendigo—a standalone novella
★★★★★ "If you liked The Dark Tower, if you like the writing of Stephen King, then read Errant Gods." --Ray Simmons, Readers' Favorite
Do you have what it takes to follow Hank's journey?